DVD Dangerous The Short Films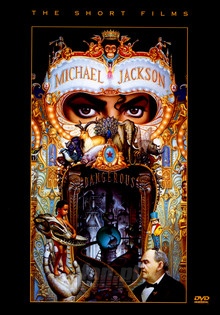 1.Black Or White
2.Heal The World
(Superbowl Performance)
3.Remember The Time
4.Will You Be There
5.In The Closet
6.Gone Too Soon
7.Jam
8.Heal The World
9.Give In To Me
10.Who Is It
11.Dangerous

Details of DVD:

DVD VIDEO SURROUND SOUND 5.1 / PCM STEREO

=pal/region 2, 112 min. making off's + tour footage=
Language : en
Subtitles : en
Screen : 4:3
Audio : dolby digital 5.1
region: 2


Description:
Dangerous The Short Films is not only super video clips of Dangerous album, which are so much love like Heal The World, Black Or White or Give In To Me in digital quality, but also bonus features as "the making of" for example In The Closed, and Michael's appearances on special concerts and receiving awards like "Legend Award", which is presenting by his own sister Janet Jackson. More than that converted sound into system 5.1 Dolby Digital, gives amazing impression watching and understand in video clip and whole song. If you have been touched no one time watching and listening Heal The World or really rarely broadcasted Gone Too Soon, you can be sure, teardrops will appear to your eyes. And besides of teardrops we have here full version of Black Or White where Michael is dancing on car, touching his crotch and is demolishing car as well, and that's all is against violence. "PEJUDICE IS IGNORANCE". However emotions following all rest of clips on this DVD are really not less exciting. If you love these video clips and you like special features then this DVD must be found in your collection.